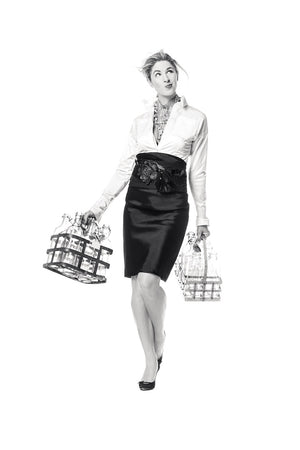 Chapter 14- Statement VS Staple
After the housing crash in 2008 , it seemed insensitive to be showcasing a fashion show during a time when people were losing their homes, savings & jobs, and just trying to keep #milk on the table.

That said, retail is still usually the first to go in a down market, and many contemporaries fashion houses were forced to close. Consequently, in 2009 corporate purse strings were tightened along with people's pocketbooks. As such, digital look books were developed instead of an elaborate runway show.

As a result, the collection chose to focus on two things: Staple pieces that clients were looking to update & knew would last years, and Statement pieces like a dramatic necklace or belt, and a novelty jacket that could be worn with anything to refresh their pre-existing wardrobe.

These strategies enabled survival during an uncertain timeMoral of the story: Sometimes it's more fashionable to be practical.
📷 @philcrozier 💄 @karenemalcolm 💇 @mialazo403 Model: @angigreene

Translation missing: en.products.general.regular_price
$0.00 CAD