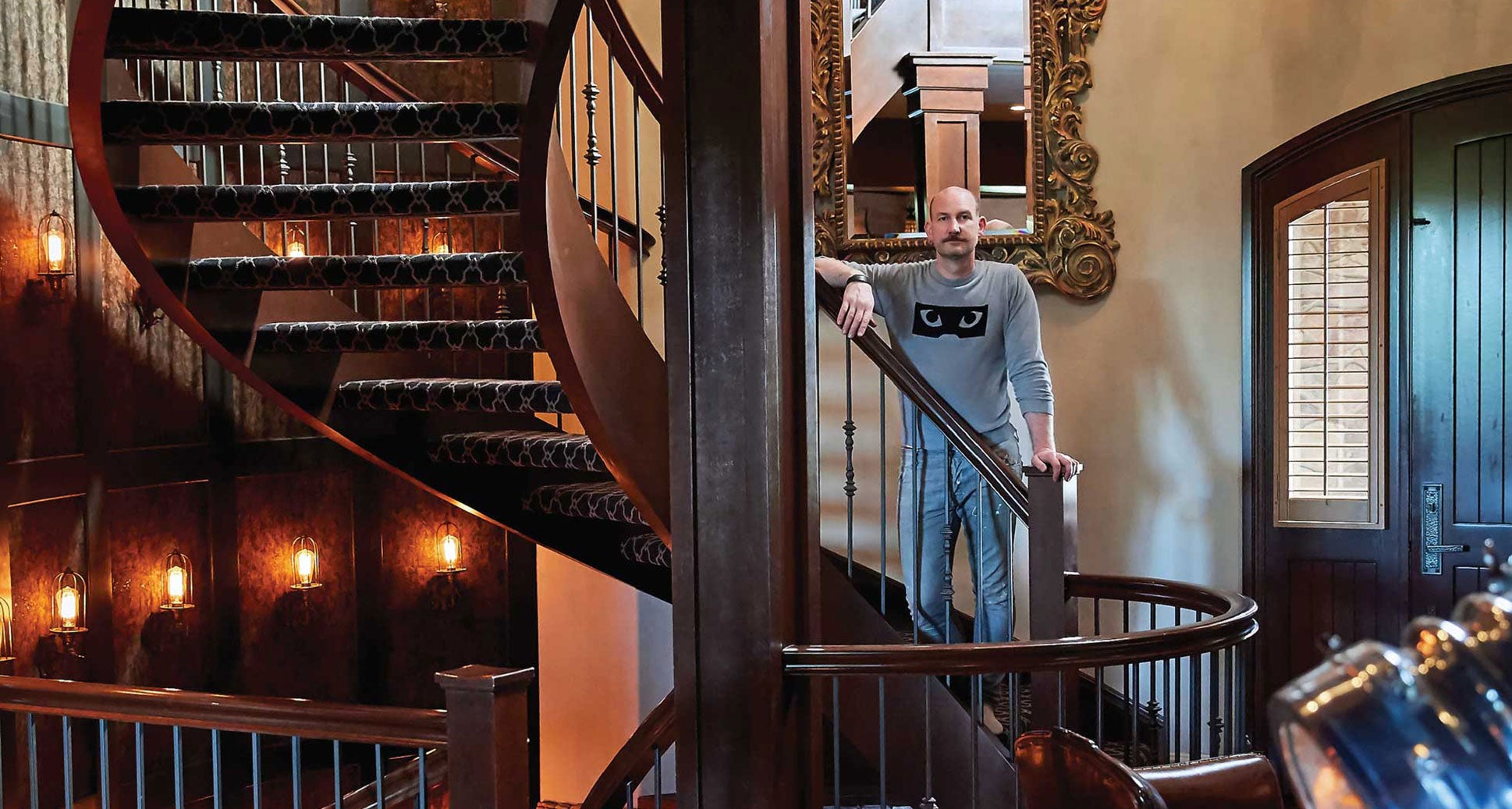 Officially, Paul Hardy began his design career in 2002 with an opening show at Toronto Fashion Week where his first collection saw a host of rave reviews declaring, "a star is born". After seeing that first collection, fashion industry icon Jeanne Beker, host of Fashion Television, compared Hardy's talent as being that of the likes of Marc Jacobs or Stella McCartney.
The sensation caused by his first collection led Hardy to pursue opportunities south of the border at Los Angeles Fashion Week. There he garnered the attention of notable industry media types like WWD who described Hardy's style as "a thoughtful, well-made collection of soft sophisticated clothes". Such reviews about the line sent a buzz across the United States to New York, where Hardy unveiled his third season for Spring/Summer 2004. Feted with a party hosted by Canadian Consulate General Pamela Wallin, Hardy's Manhattan debut drew attention from Fern Mallis, President of the CFDA. As a result, 7th on Sixth invited him to show in the tents at Bryant Park the following season. Hardy's Fall 2004 show was attended in large numbers and hailed as being his 'best work yet'. Some of his designs were described as "Oscar worthy" by celebrity stylist Philip Bloch and the New York Post. Flare magazine has described him as one of the freshest new talents emerging from North of the border.
In 2005 Hardy continued establishing credibility to Calgary talent and proving to the rest of Canada and the world what he could do. Having already established a high-end women's collection and jewelry & accessories line, Hardy began working with fur after NAFA (North American Fur Association) had invited him to study at the SAGA fur institute in Copenhagen, Denmark. The result of this visit was a magical Narnia-inspired collection. One piece, garnered the interest of the Robb Report luxury magazine, by selecting Hardy's fur poncho as one of the 70 ultimate Christmas gift items for their annual list. Hardy furthered his interest in luxury goods, after being approach by the Northwest Territories Government Canadian certified diamond producers, to design a limited collection of fine jewelry.
In 2006 Elle Canada listed Hardy as one of the top 10 designers in Canada. In addition, Lisa Tant, editor of Flare magazine, was quoted saying "He has vision and he's achieved it at every step". In March, Hardy was invited to show at the prestigious Tranoi Womens Trade Show in Paris, France. This event offers a high-end and avant-garde selection of the best designers from around the world.
2007 was a year filled with exciting new endeavors including the opening of Hardy's first free-standing store for his company's five year anniversary. Paul Hardy Atelier is located in the trendy Kensington neighborhood of Calgary. In addition, Hardy began a collaboration with Travel Alberta to promote the province in which he resides, by featuring his designs in places like Mexico City, New York, Paris, and for the 300th anniversary of Quebec City.
In January 2008, Hardy had the opportunity to build a school in Uganda. Paul's trip became a defining moment for him, which profoundly altered his viewpoint and career in fashion. To this end, Hardy has set out to initiate a development project for women who have been marginalized by political wars and HIV. The project, known as 'Reversal of Fortune', will not only provide a source of sustainable revenue, but seeks a greater goal in aiding to recast a vision for these individual's lives.
In 2009, Hardy was also honored to discover being one of five Canadian designers featured in an international coffee table book titled "Young Designers of the Americas". He also collaborated with internationally reknowned chocolatier, Bernard Callebaut, in creating a dress out of chocolate for the company's 25th anniversary, and was featured at the famous chocolate show in Paris.
In 2010, Paul began experimenting with lifestyle branding by taking on commissions pertaining to interior design. The projects are currently ongoing, and hopes to have some works published for 2013. He also, accepted an offer to collaborate with Alberta Ballet, by designing all the costumes for Sarah Mclachlan's 'Fumbling towards Ecstasty Ballet', which debuted its World Premiere this past May 2011 in Calgary, Alberta. The ballet received rave reviews from both the media and public, and now has plans to tour starting next year. That same month, Paul was honored by being invited to give the key note address for the 120th anniversary luncheon for the Calgary Chamber of Commerce. In September, Hardy was honored to be selected as one of 6 international emerging designers to go and showcase his upcoming Spring 2012 collection on a 7 city tour in China.
In the Summer of 2011, Paul Hardy was commissioned to design a commerative white hat for the 100th anniversary of the Calgary Stampede, and the 50th anniversary of the white hat. They were produced in limited edition, and were gifted to notable Canadians that possess the values that the white hat represents. Celebrities included: Rocker/Photographer- Bryan Adams, Crooner- Michael Buble and Ballet Primadonna- Karen Kain.
Fall 2012 marked the five year anniversary of the first free standing boutique, and the 10 year anniversary of the first Paul Hardy ready to wear collection. This milestone entailed hosting international media and VIP guests for a weekend long celebration in Calgary that highlighted various cultural aspects of Alberta including food, fashion, music and art.
Spring 2013 Elle (Hong Kong) magazine, featured Paul Hardy as one of the 5 Designer Labels from Canada one must know.
In the Spring of 2014, Hardy was contracted by the Calgary Stampede, to be the creative director of their merchandise department. This included rebranding the retail platforms as well as their product lines to become a year round lifestyle brand that reflected the history of the organization and the culture of the city for which it is a global ambassador. In addition to consulting, Hardy launched a new shearling & scarf collection at Paris Fashion Week under the label 'Lamb.S.Laughter'. This collection is currently sold by select retail locations in Canada, Japan and US.
In 2015, Hardy was honored to become an artist in residence for the Glenbow Art Museum. He curatorial debut examined Man's relationship with animals in design, and how this relationship has influenced art, fashion, interiors, music, lifestyles. The installation included original designs by Hardy, as well as other notable designer pieces and artifacts. The exhibition was so well received that the museum extended its run for an entire year!
In 2016, Hardy began a contract to design a signature look wardrobe for a corporation which is tentatively slated to debut sometime next year. September 2017 will mark the 15 year anniversary of Paul Hardy Design. Aside from expansion plans, other highlights will include profiles of some Hardy's interior design projects in various periodicals.
In addition to refining his skills and growing his company Paul devotes time to humanitarian work in Africa, motivational speaking, supporting the arts, and running international marathons. When Hardy is not traveling on business over 4 months of the year, he resides in Calgary, Alberta with his dogs, Fergus and Coburg.
Paul Hardy's celebrity client list have included Bette Midler, Michael Michelle, Carrie FIsher, Diane Krueger, Keisha Chante, Alanis Morrisette, U2's- The Edge, Daniel Lanois, Kate Hudson, Goldie Hawn, Sarah Mclachlan, Gold Medalist- John Montgomery, Chantal Kreviazuk, and country singer Paul Brandt.