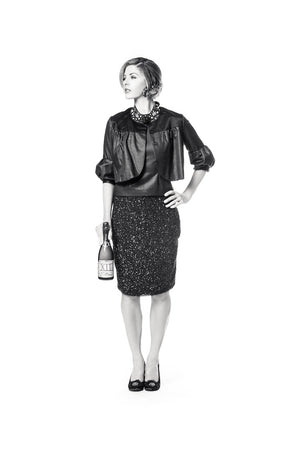 Chapter 13- Will the circle be unbroken
The market crash of 2008 reminded many of the stock market crash of 1929. Fabric trends at a time seemed prophetic in their reflections of the roaring 20's & Art Deco movements. Despite the looming depression of that era, the rise of influences of Chanel unstructured silhouettes, jersey fabrics and Lanvin embellishments were thriving.

This collection was inspired by parallels of the aforementioned influences of the jazz era. Drop waisted jersey lined dresses overlaid in tulle, caviar beaded sequin and embroidered fabrics were all present. Necklaces were stencil cut wool felt/peau de soie, embellished with beads, old jewelry bits and hardware like brass nuts & washers, which reflected the need to be creative with luxury in a down market.
📷 @philcrozier 💄 @karenemalcolm 💇 @mialazo403 Model: @angigreene
Translation missing: en.products.general.regular_price
$0.00 CAD