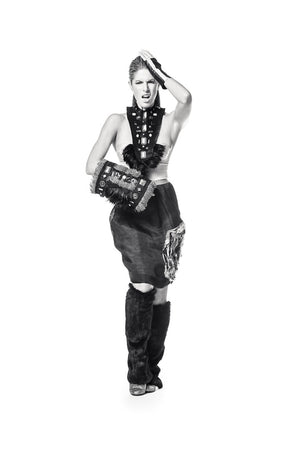 Chapter 12- Not existing at the mercy of circumstances
The concept of this collection was one of the most challenging inspirations to try to visually interpret. To give context, for decades, fashion designers & the industry as a whole sought to dictate trends & infer how people should dress or outfits should be worn. Today that may seem like a foreign concept, because the culture and society has evolved. The internet, social media and style segments or shows like 'What Not to Wear' have aided in people defining their own look.
All this to say, at the time this collection shown, the idea was quite progressive & not easily understood.- The #fashionshow had a polarizing response, people either hated it or thought it was some kind of mad genius...others were left scratching their head as to what it was all about.
The intention was to demonstrate that one could buy a singular piece infuse it into their existing wardrobe without feeling the need to buy a head to toe look. To this end, the fashion show was executed by showing all tops with no bottoms, & all bottoms with no tops; and then sporadically include a full head to toe look. The models were styled with nude retro foundation garments & support hosiery, with gender bending men's wingtip brogue footwear and red powder down their hairline as if they were healing from a lobotomy.

On a more cerebral level, the overall concept was a to portray an idea that was bit like a scene from Indiana Jones and the last crusade when he comes to a cavernous gap, gets a clue 'leap of faith' & chooses to not be bound by what is only 'SEEN'...He runs and the ground formed beneath his feet. It begs the question: Is this not how life should be lived!?!
📷 @philcrozier 💄 @karenemalcolm 💇 @mialazo403 Model: @angigreene
Translation missing: en.products.general.regular_price
$0.00 CAD