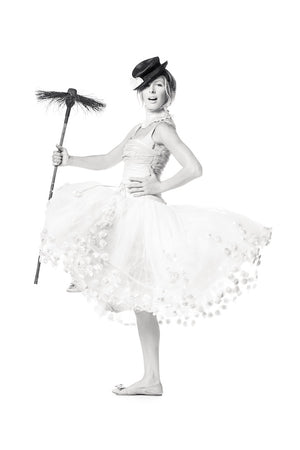 Chapter 5- Mary Poppins goes to New Delhi
This collection was inspired by the children's classic 'Mary Poppins' The initial concept was to beg the question 'What would it look like if when Mary hopped into the painting with Bert & the Banks children that they ended up on a journey to India instead the horse races!?! This idea sparked an inspiration to consider the Holi festival with its colourful dyes, folds of a saris AND Mother Teresa. This in turn it led me to think of Princess Diana, whose death was within a week of the Saint's as a comparison of their lives were made at the time. This further connected the dots between Britain & India in both modern & colonial ways.

This generated common threads between the Nanny , the Nun & the Princess by juxtaposing the Edwardian era with techniques of dying, beading, embellishments found in India, along with Catholic iconography of the sisterhood all in luxe royal fashion. Moreover, a cerebral examination was given to both women acts of service and influence. Aside from inspiring others in various ways, each attempted to implore people to SEE & VALUE others, & recognize that EVERYONE matters and desires to be significant!- From the bird woman on the steps, the wife who feels like an accessory, the children who just want to be loved, the orphan & impoverished or the AIDS victim in a hospice.
📷 @philcrozier 💄 @karenemalcolm 💇 @mialazo403  🎩 @lilliputhats 
Model: @angigreene
Translation missing: en.products.general.regular_price
$0.00 CAD