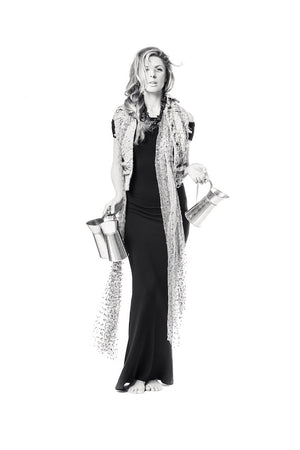 Chapter 3- Nation Changers
This collection was inspired by a Biblical account of an encounter Jesus had with an unnamed woman from Samaria. It was also the first runway show I did at NYFW.


As the story goes, Jesus was on his way to Galilee, but he 'needed' to go through Samaria (note: geographically that is not a requisition to travel between the two places)

He met a woman (unnamed) drawing water from a well by herself at the hottest point in the day (both odd circumstances) Over the course of their conversation (also rare bc culturally at the time A: Men did not converse w women in public, unless to proposition them, and B: Jews & Samaritans did not mix socially). It was discovered she had had 5 husbands & 1 lover over her short life (which likely made her a social outcast)

Nevertheless, the conversation enabled her to realize all she could be beyond her circumstances. As a result, it says she ran back to the town & she MADE people listen to her...The entire town of 3000 proceeded to go to the well, where the entire community were transformed.
The moral of story is 'Are we extend the same grace to others as we have received ourselves, and willing to love people where they are at, rather than based on what they have done...because you never know who will be used to change a nation.


Translation missing: en.products.general.regular_price
$0.00 CAD